bee smart city is proud to partner with IMPACT>MOBILITY - the only conference in Europe to unite more than 200 private and public stakeholders and foster smart mobility development and confront the data monetisation, customer experience and many other challenges. With more than 15 hours of networking, over 30 speakers, and over 20 sessions the event will help building and strenghtening partnerships, developing platforms and integrated services that are suitable for the needs of modern and dynamic smart cities.
The IMPACT>MOBILITY event in 2019 covers four important themes:
Data Platforms & Business Models,
The Road to Mobility as a Service,
Investment & Financing Mobility,
Last Mile & Connected Infrastructure,
each with useful content for all the stakeholder groups of mobility development - includng but not limited to city representatives, mobility service providers, telecoms and IoT platform providers, analytics platforms, as well as automakers and public transit authorities.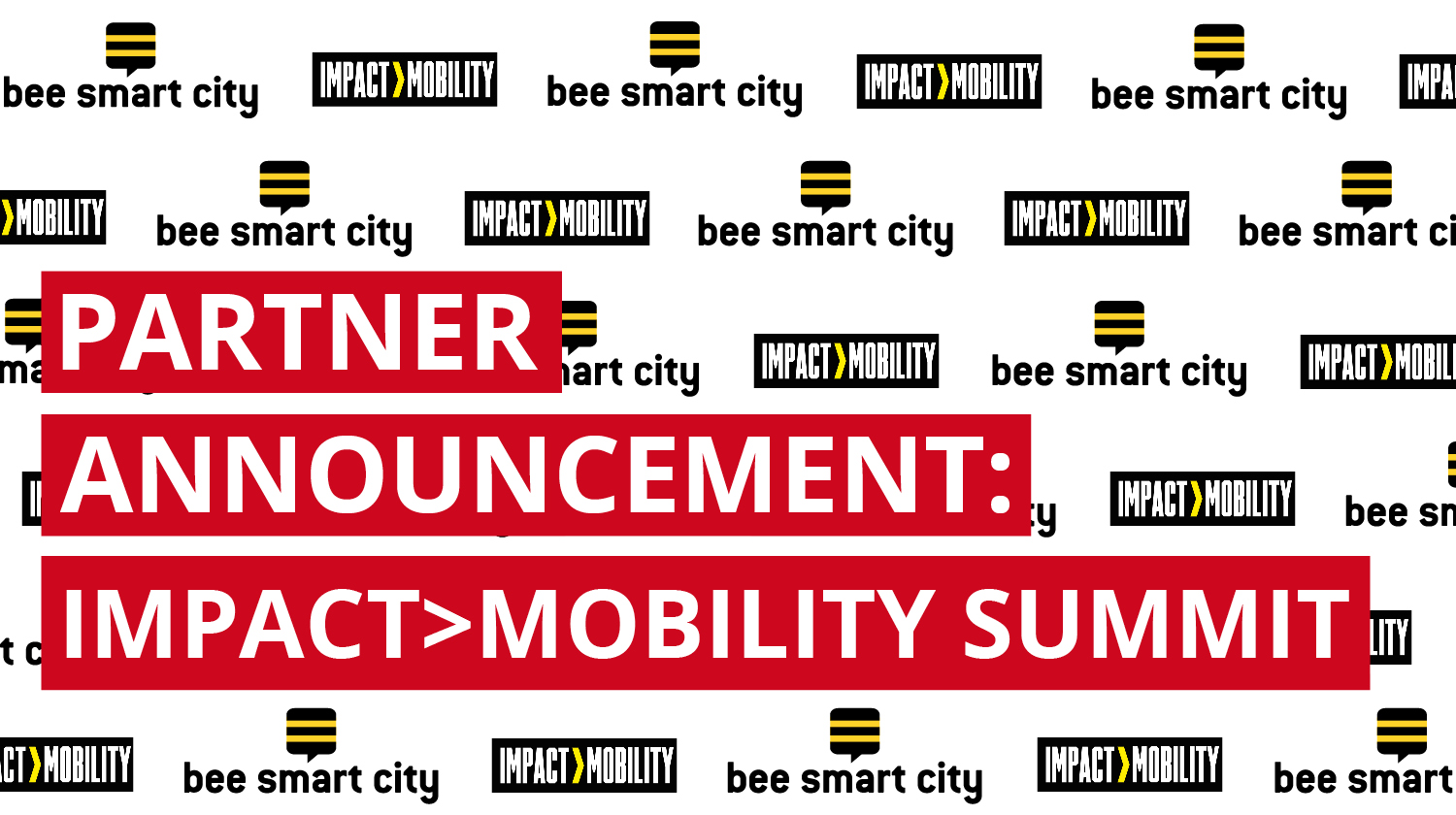 bee smart city has developed the world's largest 'Smart City Solution Database' – a global smart city business network and community with currently 11,700+ members and more than 600 proven solutions implemented in nearly 1,000 cities and communities. The free global solution database facilitates sharing best practices among cities and connects solution providers with cities and municipalities.
IMPACT>MOBILITY takes place from June 24-25 at Novotel Amsterdam City in the Netherlands.
Speakers include:
Chris Snyder, CEO /ViaVan
Lizann Tjon, Program Manager Smart Mobility, City of Amsterdam
Mariska Slots, Mobility as a Service Expert, City of Eindhoven
Hamid Zarghampour, Chief Strategist, Connected and Automated Transports, Swedish Transport Administration
Paloma Castro Martinez, Head of International Communications, Lime
Yovav Meydad, Chief Growth and Marketing Officer, Moovit
Adela Spulber, City Relations/Business Development Manager - Autonomous Services, Daimler Mobility Services
Iain Macbeth, Head of Foresight, Transport for London
Christian Maertins, New Mobility Evangelist of Smart Mobility Unit | Digitalization, Volkswagen AG
Nicola Dallatana, Head of New E-Mobility Division, Toyota Tsusho
---

Don't miss out on this event and save €200 with the Early-Bird Rate until May 3rd!
Register Now for the IMPACT>MOBILITY Conference Ticket Discount


---
About bee smart city
bee smart city is the leading global smart city network, connecting more than 12,000 smart city contributors and nearly 1,000 cities around the world to share the best practice solutions, products and expertise. bee smart city uses collective intelligence as its own ecosystem and simplifies accessing and navigating the smart cities market for solution providers, cities and other stakeholders to foster sustainable smart city development.
Learn more at https://www.beesmart.city
Contact:
bee smart city GmbH
Thomas Müller, Managing Partner
Tel. +49 (0) 208 62801331
Email: press@beesmart.city
Twitter: @beesmartcity
About IMPACT>MOBILITY
Europe is undergoing a revolution in urban mobility. With cities outlawing ICE vehicles in their mission to meet ambitious zero-emission targets and a new-breed of mobility service providers battling to satisfy the needs of the on-demand consumer. Backed by billions in investment, this has created a lucrative mobility marketplace where data is king. Yet, despite the hype, the unicorns and the game-changing potential, an uneasy truth remains; a defined ecosystem and clear business model for monetizing mobility has yet to emerge. Join the mobility service providers, automakers and data platform providers, cities and public transit operators at IMPACT>MOBILITY to build the partnerships that will deliver sustainable mobility and create a long-term business model for its stakeholders.
Learn more: https://events.impactconf.com/mobility-eu/

Contact:
Luke James, Executive Director
Email: ljames@impactconf.com